We are delighted that Chambers has once again recognised The Risk Advisory Group ('Risk Advisory') as a leading professional investigations firm in Chambers Litigation Support Guide 2020.
Risk Advisory was the only firm of its type to be listed in every major industry category – Business Intelligence & Investigations (UK and US), Global Asset Tracing & Recovery and Political Risk.
Chambers Litigation Support Guide 2020 is a guide to professional consultancies that support litigators and other attorneys worldwide. The rankings and commentary are based on positive recommendations from thousands of interviews with clients, peers and co-professionals.
The Chambers review acknowledges Risk Advisory as the "go-to firm for global business intelligence requirements", as "deeply experienced in gathering evidence and intelligence in support of litigation and arbitration proceedings", and as "a universally recognised player in the political risk space".
Read our full Chambers review here.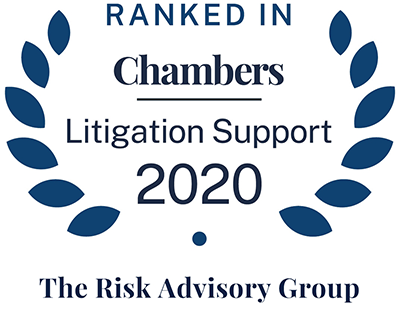 *** END ***
About Risk Advisory
The Risk Advisory Group is an independent global risk consultancy that helps businesses grow while protecting their people, their assets and their brands. By providing facts, intelligence and analysis, we help our clients to navigate increasingly complex regulatory, compliance and security environments in some of the most challenging jurisdictions.
The company was founded in 1997, employs 125 people and has offices in London, Moscow, Dubai, Beirut. Hong Kong, New York and Washington DC.
For more information please visit www.riskadvisory.com
For additional information please contact:
The Risk Advisory Group
+44 20 7578 0000
media@riskadvisory.com
The Risk Advisory Group
3 More London Riverside
London
SE1 2AQ