The EU Regulation on Deforestation-Free Supply Chains entered into force on 29 June 2023. Large and medium-sized companies now have 18 months to ensure their products are deforestation-free.
The EU's deforestation law is just one part of the EU Green Deal, a broader initiative aimed at making Europe the first continent to reach net-zero greenhouse gas emissions by 2050. The legislation on deforestation-free products will repeal the current EU Timber Legislation, whose scope applied only to illegally harvested timber and timber products. 
The EU's deforestation law, in comparison, is far broader in scope, applying to seven commodities which represent the largest share of EU-driven deforestation. These commodities are cattle, cocoa, coffee, palm oil, soya, rubber, and wood. The deforestation legislation also applies to derived products—such as leather, chocolate, charcoal, furniture, printed paper, and selected palm oil derivatives, such as those used in cosmetics.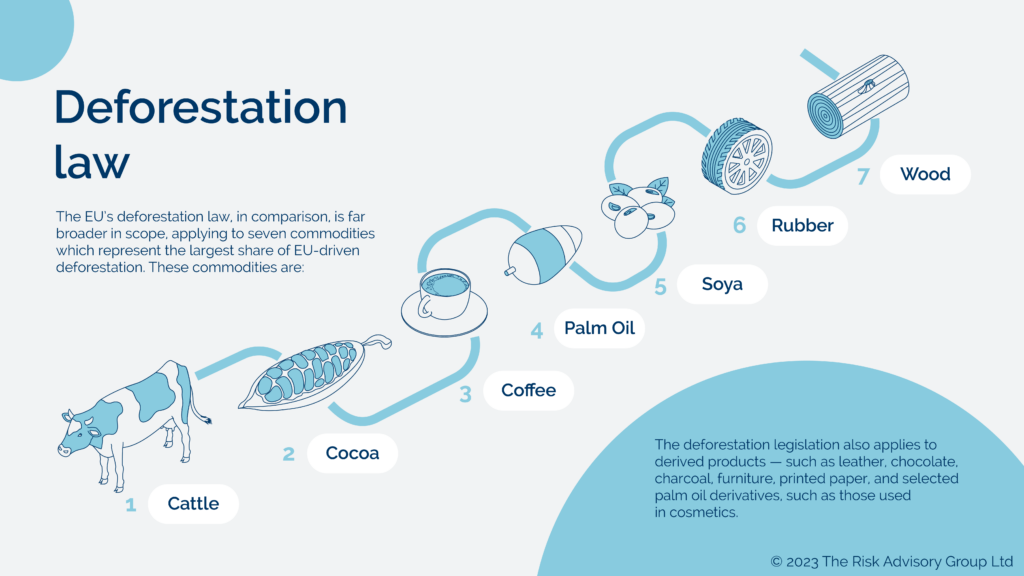 Due diligence requirements
The deforestation legislation mandates that any company that places relevant commodities and products on the EU market, or exports them from the EU market, must be able to prove that those commodities or products have not been produced on land deforested or degraded after 31 December 2020. 
In practice, companies must establish and implement a due diligence system made up of three key elements: information requirements, a risk assessment and risk mitigation measures, complemented by reporting obligations. The due diligence system should be designed to provide access to information on the sources and suppliers of the commodities and products being placed on the market, including being able to identify the country of production and the geolocation coordinates of all the plots of land from where the relevant commodities were sourced.
The law also applies to feed used for livestock that has been made using cattle, and mandates that the geolocation data shall refer to each establishment where the cattle were raised.
Prior to placing relevant products on the EU market or exporting them, companies must electronically submit a "due diligence statement" to competent authorities, declaring that they have exercised due diligence and found "no or only a negligible risk." Records of these due diligence statements must be kept for five years from the date the statement was submitted and be made available to competent authorities upon request.
Risk assessments and risk mitigation
The legislation further requires the carrying of a risk assessment that takes into account a long list of criteria laid out in the law. Such criteria include, in part, the prevalence of deforestation or forest degradation in the country of production; the risk of mixing with relevant products of unknown origin or produced in areas where deforestation or forest degradation has occurred or is occurring; the consultation and cooperation in good faith with indigenous peoples in the country of production. 
The legislation further recommends that risk assessment consider other risks associated with the country of production and origin, such as its level of corruption, armed conflict, lack of law enforcement, international human rights violations, or the presence of any sanctions imposed by the UN Security Council or the Council of the European Union.
If companies identify any relevant products not in compliance, they must be prepared to act. The legislation requires having in place adequate and proportionate policies, procedures, and controls that include the appointment of a chief compliance officer; and an independent audit function to put checks around those policies, procedures, and controls.
Companies must be prepared to demonstrate how they checked against the information gathered by the risk assessment and how they determined the degree of risk. Risk assessments and risk mitigation measures must be documented and reviewed at least annually and made available to competent authorities upon request. 
Next Steps
The European Commission will establish a three-tier benchmarking system, classifying countries as posing a low, standard, or high risk. Each country will be classified based on an objective and transparent assessment, to be completed within the next 18 months. 
The risk classification of each country will determine the level of inspections and controls to be carried out. These range from enhanced monitoring for countries that present a high risk of growing, harvesting, or producing relevant commodities in violation of this regulation to simplified due diligence in low-risk countries—absent any knowledge or reason to believe that there is a risk of non-compliance with the regulation. 
EU authorities will have access to relevant information provided by the companies, such as geolocation coordinates. Checks will also be conducted with the help of satellite monitoring tools to monitor where products were derived.
Fines for non-compliance could amount to at least four percent of the company's average annual turnover in the EU. Additionally, member states may confiscate products and temporarily exclude companies from the EU market. 
What this means for companies
Multinational companies across a wide variety of industries and sectors—food and beverage, agriculture, construction, and more—must prepare now by proactively implementing policies, procedures, and internal controls that seek to identify, prevent, and remedy risks in their supply chain, with a specific focus on commodities and derived products potentially linked to deforestation. Furthermore, companies must ensure they are conducting in-depth due diligence deep into the global supply chain, in order to trace commodities and products all the way back to their source. 
Meeting these requirements likely will prove challenging, as many companies do not have a firm grip on the thousands—sometimes tens of thousands—of direct and indirect suppliers in their supply chain, the risks that each pose, or from where their commodities or products are being sourced. And even when companies understand where their commodities are being sourced from, they may not understand the specific risks associated with the jurisdiction or how to uncover the necessary information about their direct and indirect suppliers in those information environments.
Thus, it is advisable to enlist the help of a trusted partner with independent due diligence expertise to complement compliance and internal audit teams' efforts in identifying deforestation risk in the supply chain, remedying areas of non-compliance, and proactively protecting against any potential future risk.
To discuss this article or any other

ESG and supply chain challenges

, please get in touch with one of our experts

 here.